Andrew Harlow: 3 lessons I learned after breaking my back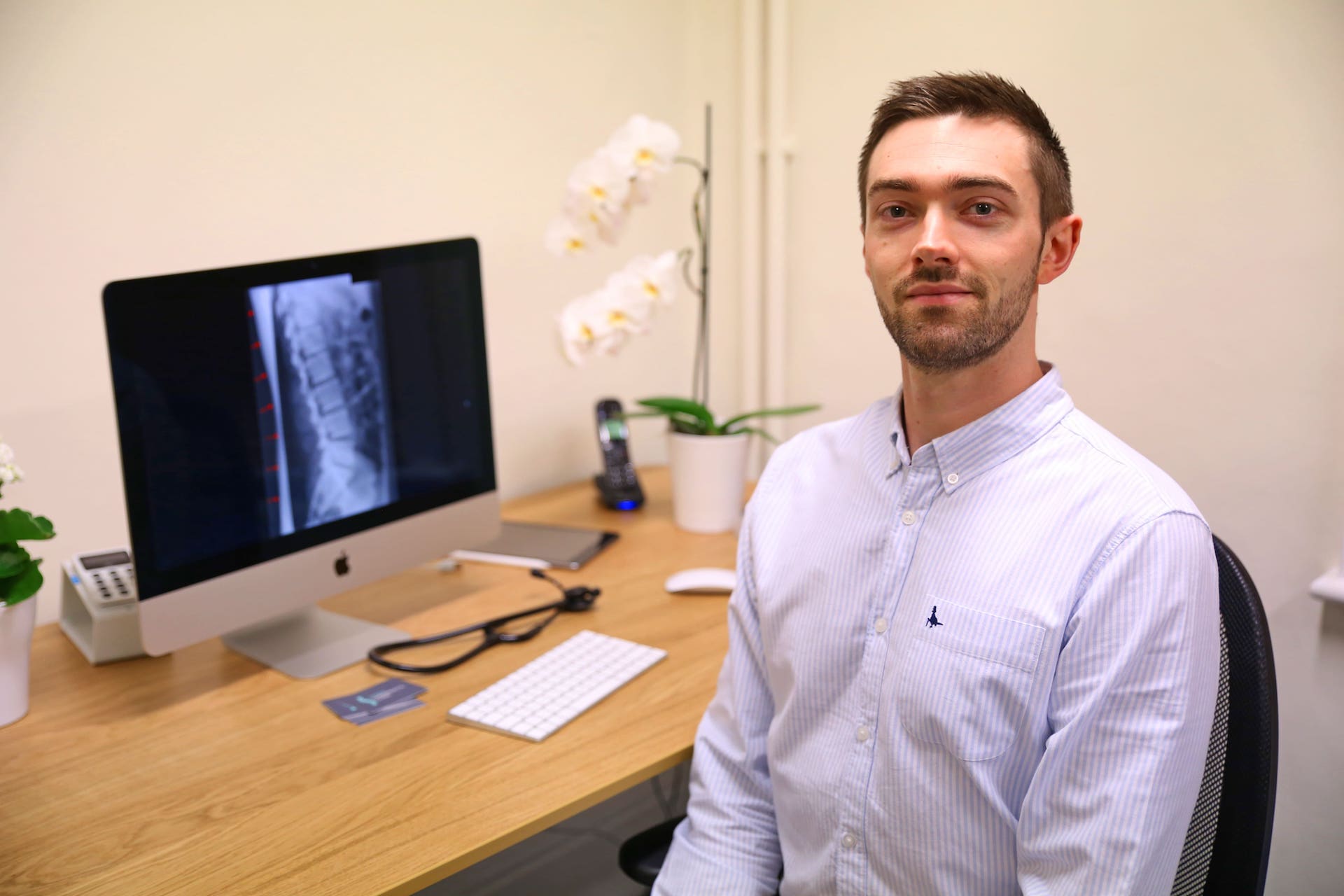 Posted 19.02.2019
My personal story – and 3 lessons I learned after breaking my back
I wanted to share my own experience of how I injured my back, and then the ups and downs which followed over the years to come – all of which have helped me be the Chiropractor and person I am today through learning a few lessons along the way.
Growing up without back pain
The setting for this story will be fairly typical of many of you, and indeed many children growing up now, with memories of playing in the pool at Markeaton park in summer, exploring the woods in Allestree park and riding my bike down the almost vertical slope on the rec, which when you look at it once you are grown up seems much less adventurous – the slope must have got lower over the years…
When I look back at my overall health now, I would say there were so many areas in which I could have been healthier and performed better when I was younger. I was shy most of the time and as I was slightly taller than some I never wanted to stand out, so would round my shoulders down. I remember always having hiccups and felt like there was something tight in my throat which made me feel sick and I never really enjoyed food. I also remember frequent visits to the Doctors and plenty of  doses of antibiotics for recurring ear infections.
'I didn't have a back or a neck problem as I didn't have pain there'
I grew in confidence when I started playing football at school in year 4 – I had never wanted to get involved on the playground previously but one day I gave it a go and found out I was quicker than some of the other boys and could get to the ball faster, even though I probably didn't do much with it when I got it! I enjoyed sport and wanted to be an athlete, and remember showing my dad how strong my muscles were and he then noticed I had one shoulder a little lower than the other which we laughed at! I started playing more sport and joined Allestree Juniors football club where we trained mid week and also played matches on Sundays – I really enjoyed the games but most afternoons I would have a headache for a few hours after the match.
'My back was still fine and I didn't have shoulder pains'
I was very happy as a child, did very well in school and had an almost perfect attendance. However looking back with what I know now, although I wasn't 'ill' I would not say my performance was at its peak, and now recognise at least 6 signs and symptoms of spinal dysfunction which I would have had through all of those years which were un-diagnosed, and I'm sure there would have been more that I cannot recall.
My back injury
Aged 13 in early summer I was playing football on the rec with a few friends and tried to kick the ball behind my standing leg whilst turning – I don't remember what happened to the ball but I do recall hurting my low back, it was so painful and I had never done it before! I hobbled home and rested up.
Over the next few weeks however It wasn't clearing up and the moment it felt better and I would play sport again it would flare up and cause me pain. I was so worried because we had a family holiday planned to Centre Parcs for the first time and there were so many activities I had planned and looked forward to.
I needed to do something, and someone told my Mum about an Osteopath around the corner. I wanted to book the appointment myself and insisted I made the phone call, but as it turns out I booked myself in to see a Chiropractor from the yellow pages instead!
'My back was fine'
After two treatments my back pain was sorted and I was able to do everything I wanted on holiday – it was such a good feeling! I remember cancelling my follow up appointment as I was so happy it was sorted, I thanked them for their help, and that experience planted the seed for wanting to be a Chiropractor myself.
Had my problem really fixed itself?
No! Of course it hadn't, I had just recovered from the injury but the underlying causes of the injury were still there, I was just tolerating them so much better and no longer had the pain which was the only indication I had that my back was not working well.
I had some more lessons to learn about health and performance before I would understand.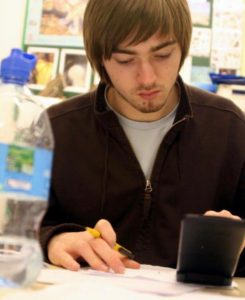 I had fallen into the trap and experienced the downside of Chiropractic 'treatment', which was that it was so good and quick it got rid of my pain so I assumed it was fixed. 'No pain = no problem' right?
So even after being treated by a Chiropractor, I myself didn't go back for check ups as I thought I was fixed – even with how impressed I was by Chiropractic I still didn't 'get it'.
How I broke my back
There must be a lot of force to break a bone in you back, right? Previously I would automatically think about falling out of a tree or a nasty fall off a bike crashing into a post and so on – however force comes in many ways and it doesn't have to come all at once.
I didn't actually find out I had broken my back until I was 27 – many years after I had pain!
Over the rest of my teenage years and in my early 20's I would have episodes of back pain from playing five a side football indoors and also sometimes after squash but I recovered pretty quickly so never went for more treatment. I still had headaches occasionally and my shoulders would ache when studying for exams, but it was never pain that I thought was 'bad enough' so I never thought it needed treating – in my experience at that age I went to the Chiropractor if I couldn't walk without back pain, so all these episodes were nothing.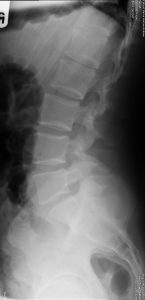 Eventually I 'got the idea'!
I saw so many amazing transformations in peoples lives through Chiropractic care. I started to understand that there exists a spectrum. At one end wold be disease, pain, and dysfunction. And this would be opposed by progress towards improved health, well-being, higher function and improved performance – and you can use Chiropractic care as one way to help you get even better than where you are now – wherever you are on that spectrum.
I approached my health differently and had an in depth examination of my whole spine to find areas that I could improve. We took an X-ray of my lower back based on my story and there it was – a stress fracture right where my niggling pain had always been over the years! Every time my back had been hurting it was my body taking all the force into one area on the bone, which ultimately caused a stress fracture.
Ok so you might have to really squint and use your imagination to see it from this picture! There was a tiny crack next to the joint at the base of my spine called a non spondylolytic spondylolisthesis – which basically means a stress fracture which has not displaced the bone forwards.
What I have learned
I am very grateful for my story as it makes me appreciate my health, and other people's in a different way. If I hadn't had those problems my eyes might not have been opened up to see how the body actually tolerates problems fantastically well in the absence of pain. However this comes with a trade – if you are not in pain but have a problem, your body is tolerating that problem by using some of your total performance capacity to compensate for it.
The more compensations you have, the further away from peak performance and higher health you move, getting closer towards pain and dysfunction. Headaches, aching shoulders, one shoulder higher than the other, gastric upset and diaphragmatic, TMJ issues, back pain and neck pain are all 'normal' problems, but none of them are normal really – we aren't designed to have them.
There are thousands of lessons I have learned and seen over the years studying and whilst in practice, but here are 3 which I have found to be the most useful:
You sometimes need an insight into the world of pain and problems if you are to appreciate true health and well-being. Try to use someone else's experience and learn from that (rather than breaking your back!) or otherwise learn your own lessons quickly.
Understand that pain is a very BAD representation of function! Just because you don't have spinal pain doesn't mean you don't have a spinal problem. Are headaches, poor posture, one shoulder being higher than the other a sign of peak performance?
Get a check up from a spinal professional even if you are not in pain, and go back once the pain has resolved!
Spinal dysfunction causes a huge range of widespread dysfunction, whether it is under the radar or shouting at you with pain signals. You know that you have a spine problem if you have pain, but you can't say you do not have a spine problem just because you are not in, or have recovered from pain.
If you need professional help you can find out what to expect when you come to see us or can check our appointment availability for getting started.
Andrew Harlow – Duffield Chiropractic Clinic
Andrew made me feel comfortable immediately, listening carefully and giving me time to explain my concerns. He asked questions to elicit the exact nature of my problems and after treatment gave me advice on how to avoid problems in the future, His understanding, patience, and holistic approach has ensured I got better after treatment and also am able to keep active and fit. - Kate Tollervey
I have seen a lot of people over the years and like Andrew's approach as he is extremely logical and always finds the root cause of the problem. Very happy to be back on the golf course. - Sam Warrington
Andrew dealt with me in a professional manor and was incredibly knowledgeable and thorough in his treatment. Highly recommended. Thank you very much. - Christine Charles
I have been treated by him over the last 6 years and have always been very impressed. - Robert Cooper
Our services
Take a look at what we offer