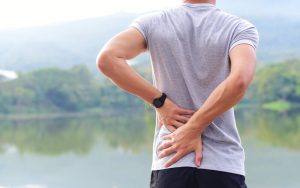 At Duffield Chiropractic Clinic we treat a range of conditions including sciatica, hip pain, back and neck pain. When you have pain the best approach is to get advice from a professional about what has happened – you can then be comfortable in the knowledge that any recommendations or treatment is going to be suitable and specific for you.
Chiropractor Andrew Harlow was introduced to Chiropractic with pain as his starting point. He suffered from an acute lower back injury aged 14 and this was resolved with Chiropractic treatment. However Andrew's story of how he later broke his back was more complicated – and as such he appreciates the impact pain has on your life, and is very well placed for treating patients.
He has completed 7 years of academic study, and as a registered Doctor of Chiropractic has since completed thousands of patient visits.
Our aim is to always find out how to get you out of pain as quickly as possible, and make sure it doesn't come back. To do that we need to:
Find out what and where the problem is
See why it happened to you
Assess how to treat it
Figure out how to prevent it
Most patients present with back or neck pain, which has built up over a period of time niggling in the background, but then got to a point where it has become much worse all of a sudden, and the injury 'just happened'.
'After seeing so many patients with pain as their initial reason for seeking care I like to let people know fairly early on that I have seen it before. The majority of the time it is my bread and butter and we can start treatment straight away'